Manchester City vs Cardiff City
Sam, 6 Apr 2019

oder

Son, 7 Apr 2019

, Etihad Stadium

.

Bitte denken Sie daran: * Finales Datum und Uhrzeit werden 5-10 Tage vor dem Spieltag bestätigt. Bei Zweifeln sehen Sie bitte auf der Webseite des Klubs nach. * Sie werden NIEMALS Einzelplätze erhalten. Sie werden immer Sitzplätze neben Ihren Freunden, direkt vor oder direkt hinter Ihren Freunden erhalten, wenn Sie zusammen unter einer Buchungsnummer buchen. * Sie werden immer unter den UnterstützerInnen der Heimmannschaft platziert.Bitte lesen Sie folgende Bedingungen und Konditionen sorgfältig durch bevor Sie Ihre Buchung fertigstellen.Lesen Sie unten mehr zu den Sitzplätzen und Kategorien, die Sie für Ihr Fußball Spiel buchen können.

* Premium padded seats, long side / curve location

* Block 209/210 or similar

* Access to stadium lounge

* Cash bar and food outlets

* Match program

* No dress code


Your tickets will be delivered to your hotel in or around Manchester! Tickets for weekend fixtures will be delivered anytime after 6pm on Friday. Tickets for mid week fixtures will be delivered from midday on the day of the game.
Arena info.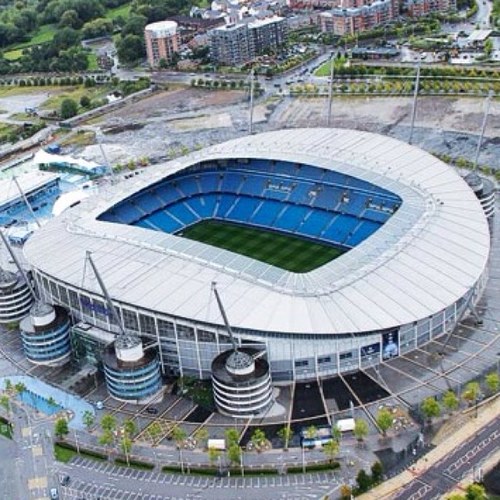 Etihad Stadium
U/S-Bahn
Nehmen Sie den Zug nach Manchester Piccadilly. 20-25 Minuten zu Fuß ins Stadion.
Plätze
48.500
Anfahrt
Etihad Stadium
Adresse
Manchester City Football Club, Etihad Stadium, Etihad Campus, Manchester M11 3FF